VERONIKA SPILJAK
Session 1

performance, 2020.
Loneliness. Vulnerability. Hopelessness. These are things with which I come into contact entering adulthood. Being responsible and independent are always glorified in childhood, absence of any preparation for future conflicts. Now, as an adult, these consecutive problems, traumas and responsibilities take emotional tolls, resulting in making dependency, fear and disassociation. These negative instances create uncertainty and inner turmoil. Where do I stand as an adult dropped into an independent, self-absorbed society?
Session 1 forces me to come into contact with and to confront these feelings by producing live animations on the projector. In the process of each drawing, I lead a "meditation" session for the audience to listen to and partake in, relating to the provided scenarios. Starting as a typical meditation session, it eventually unravels into something uncomfortable and off-putting. This session subtly builds up tension, frustration and anxiety, contradicting the purpose of a meditation session. The experience holds the potential to trigger and expose myself live, in addition to the reverse: exposing the audience to myself. When the session come to an end, it critiques misconceptions of mental health as being something easily dealt with.
All of those feelings brought up in a time of conflict, become bottled up into a black, restricted silhouette.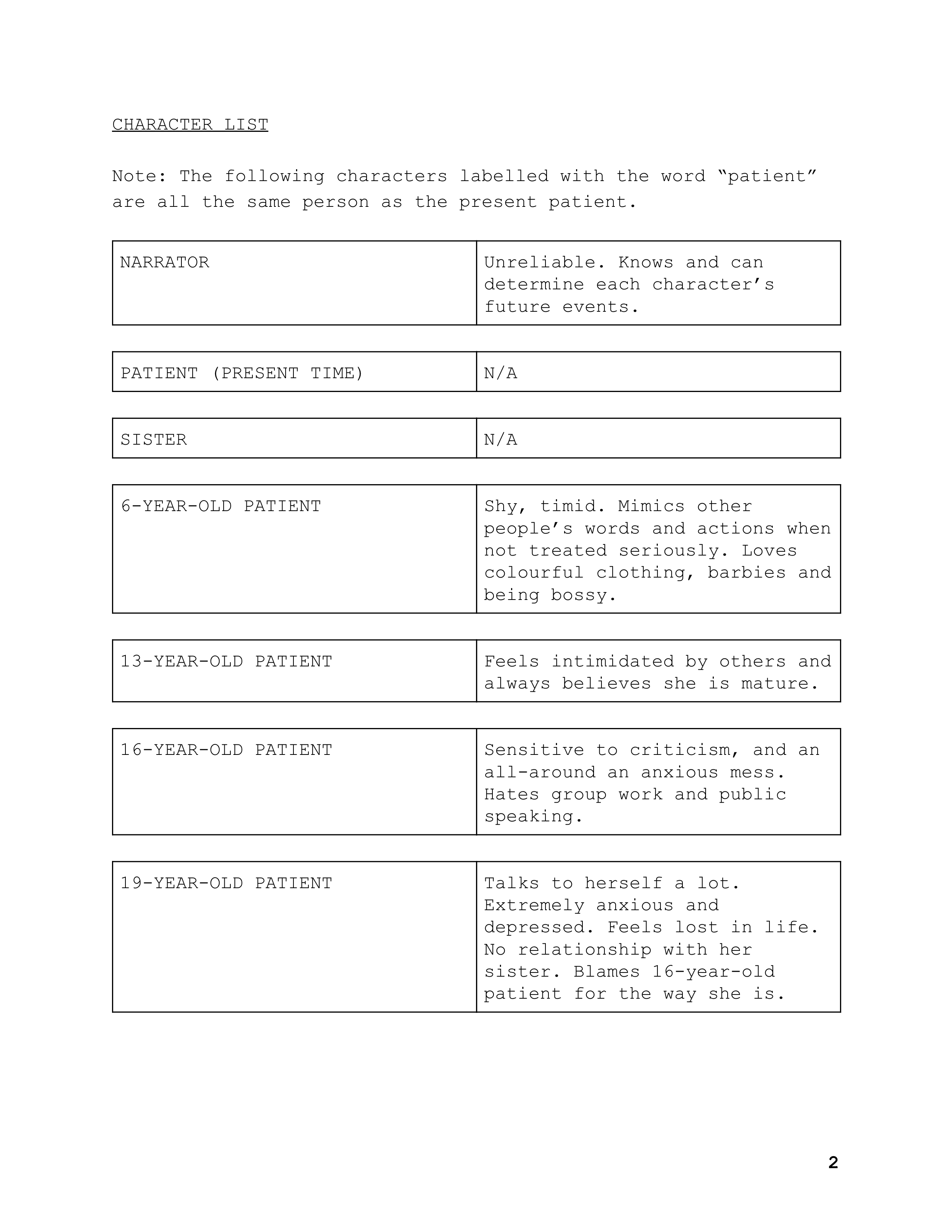 When She Comes Back Home

performance/play, 2020.
click
here
to preview.
How can those with addiction affect their loved ones at different periods of their life? When She Comes Back Home is the first act of an ongoing performance exploring the relationship of alcoholism and family.
When She Comes Back Home focuses on a patient in a therapy room recounting their experience of living with their alcoholic sister. The therapy room situates itself within a cubicle consisting of a table and two chairs, with the script laying out the relationship between the patient and their alcoholic sister. Unfolding the patient's past are interactions with additional cast members—some actors playing relatives, and others playing the patient themselves from different points in time.
In Spiljak's work, the script acts as a guide—the actors performing it can employ their interpretation of alcoholism, adding an element of improvisation to the performance. When working with each actor, Spiljak encourages personal takes on these characters to create a wider range of relatability across not only the audience but also the participants.
When She Comes Home finds inspiration from Spiljak's Polish upbringing, where drinking is ritualized and normalized. Spiljak is interested in how her audience confronts a situation involving substance abuse: How do these events impact our daily routines? How does it affect our relationships with others?

---

Veronica Spiljak is a performance artist specializing in drawing and painting, based in Mississauga, Ontario. She is completing her undergraduate degree in the University of Toronto Mississauga's Art & Art History program. Spiljak combines transparencies and drawing materials with screen-writing, sound, and obsolete projectors to immerse the viewer in her performances. Trauma, substance abuse, anxiety, depression and other topics dealing with mental illness are prevalent within Spiljak's art practice, where she frequently puts herself and the audience in vulnerable positions. She brings the invisibility of mental health to the surface. As these performances portray different traumas and events that contribute to poor mental health, Spiljak creates a journey for the viewer and herself to traverse in each other's company rather than in isolation


---